News from Tad Bowman
March 16, 2013: Gallery Showing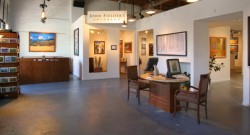 I am now showing my work at the Denver Photo Art Gallery. The gallery is owned by John Fielder and he shares space with other artists. If you are in town or visit, please take some time to visit the Denver Photo Art Gallery where you can see some of my work displayed.
October 8, 2012: 2012 Colorado Fall Photo Trip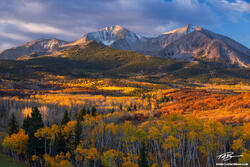 I love the Colorado fall season and the fall foliage. That really sums it up. It's my favorite time of the year (and the most expensive too). It's a time when I find myself driving to every location that I photograph to see the state of the colors and then driving to the best place with the best colors and the best light only to repeat it again the next day. This year I made it out a little bit late in regards to the peak fall colors. However, I was rewarded with some nice light and clouds that made photographing the fall foliage a treat. It's hard to beat the variations of aspen tree color yellow, gold, and green in the vast sweeping forests. One of my favorite images was of Mount Sopris. I always enjoy shooting this mountain. There's just something about it. All the photos are posted in the 2012 New Additions section and also cataloged in the Colorado Fall Foliage section under the Colorado Gallery.
August 1, 2012: Colorado Weminuche Trip Part II
I said this in an earlier post. I'm fascinated by Colorado's Weminuche Wilderness. I've stared at other photos from Sunlight Basin endlessly and wondered what it must be light to go there. I was particularly drawn to Jagged Peak. So, this year, I committed to going. I was lucky to have Darren Kilgore to go with. He had been there before and I hadn't. This was nice since there's a large portion off trail through a downed wilderness. We spent 3 nights and four days up there. I didn't get great light making great photos. However, the view was fantasitc and rewarding by itself. Another thing I learned was how powerful nature is - lightning. I learned that its better to camp in the trees and get up much earlier to hike to your destination than camp above tree line and get a little more sleep. There were lightning strikes that were too close and I was the high point. So stressful and not much fun. The few photographs that I took are located in the 2012 New Additions section and also cataloged in the Colorado Mountain Photos section under the San Juans.
May 6, 2012: Spring Southwest Photo Trip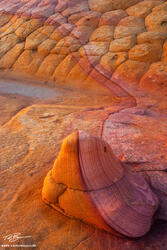 This spring I continued a tradition of photographing the desert southwest. I really enjoy this trip and will continue it on an annual basis. The temperatures aren't too hot and the the crowds are favorable. I usually trek from Arches National Park to Capitol Reef to Escalante. However, this year, I made it down to Arizona for the first time. I was really pleased with the photos I came away with and was equally impressed with the landscape too. The opportunities for abstract photographs are endless and that doesn't take into account the classic grand scenics available for photographing. All photos have been included in the New Additons (2012) section and aslo cataloged into the Desert Southwest Photos section.
September 28, 2011: 2011 Colorado Fall Photo Trip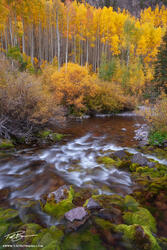 If there is one time or season of the year that's my favorite. Fall (Autumn) would be it. I absolutely love the gold, red, and orage colors the landscape takes on. Additionally, I find myself doing a lot more driving taking in the scenery at a snail's pace. I usually have a circuit that I follow, which is Aspen, then Crested Butte, then the San Juan Mountains near Ouray. I spent a lot of time in Aspen this year due to a snow storm that hit the San Juans. The past few years, I haven't had many (if any) photo opportunities of the San Juans for similar reasons. Always hope for next year. Photos from this year are located in the Colorado Fall Foliage section.
July 31, 2011: 2011 Colorado Mountain Wildflower Photos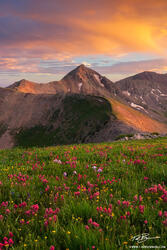 This year's Colorado wildflower photo trip was an abbreviated one. I had some other obligations that prevented me from staying out later. That said, I did manage a couple of backpacking trips and some hiking to get some mountain photos. Two of my favorite locations include the La Plata Mountains and the area around Wetterhorn Peak in the San Juan mountain range. I seem to visit both locations every year with a thought in my mind to get the perfect photo. What I really like is the solitude in these areas though. I didn't have any threatening lightning storms this year (whew) and managed to get some good lighting that resulted in some new images posted in the Colorado gallery of this website
May 15, 2011: Utah Desert Southwest Spring Trip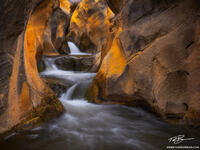 A couple years back, I decided to visit Southern Utah to see and photograph a lot of places I had never been before. I was blown away and quickly developed a connection to the Utah area. This year I made my way back again to do some more photography and exploring. I enjoyed backpacking in Coyote Gulch in Grand Staircase Escalante National Monument and exploring other areas I'd never been. If I had any disappointment, it would be that my trip was cut short with bad weather. Regardless, what a nice are and what a great time. I was happy to come back with some photos to remember my adventures in Southern Utah.
January 17, 2011: Utah Southwest Photography Trip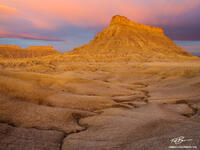 This winter I was able to get away to Utah for a long weekend. I traveled to Arches National Park, Capitol Reef National Park, and Grand Staircase-Escalante National Park. It was a short time to see and photograph so many things. The conditions were very nice. My only regret was not having more time to spend photographing. However, I came away with some images I really liked and a taste for more to come this spring. All posted photos can be seen in the New Additions gallery.
November 3, 2010: Great Smoky Mountain Fall Colors
I was able to sneak away to the Smoky Mountain National Park for half a day to photograph the fall colors. Unfortunately, most of the trees leaves had changed and a lot of the leaves had fallen. However, there were still pockets of color to be had. I didn't come away with a lot of photos, but I did capture a few pictures that I like. This image depicts a scene that caught my eye driving around. There's a little waterfall with some fall foliage in the background.
October 10, 2010: Colorado Fall Foliage Trek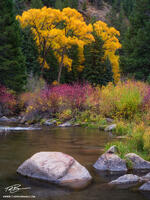 This year the Colorado autumn season wasn't the same to me as years past. While I was out, there were very little (ok none) clouds which didn't provide many photo opportunities for dramatic landscapes. Additionally, it was pretty hazy too. Thus, I focused my time to the more intimate landscape details - mainly aspen trees. I took time in the morning and late evening when the sun was low to photograph the colorful colorado aspen trees.
August 20, 2010: Colorado Mountains Weminuche Wilderness Trek
I made it to the Colorado Weminuche Wilderness for the first time this year. This wilderness has always intrigued me, but I've always seemed to back out of it for some reason. This year, I was determined to visit a particular area. I'd been planning to backpack to this area, but elected to hike in and out. It took me about 10 miles roundtrip and a lot of hiking at night to get back out. However, I came away with a photo that pleased me. The image above depicts Pigeon Peak and Turret Peak reflecting in an alpine lake.
July 7, 2010: Colorado Mountain Wildflower Photos
This year, I started my wildflower trip with a backpacking jaunt with
Darren Kilgore
. We backpacked up to Wetterhorn Basin expecting to get some great photo opportunities of Wetterhorn Peak. We did come away with some nice photos and also had some fun dodging thunderstorms with lightning strikes that were way too close. I still remember staring down at Darren as we were crouching to the ground. On from Wetterhorn Basin, I traveled to Porphyry Basin for a few photographs. Then I traveled to Ice Lakes Basin and got a picture that I really like, but not the one I hiked up there for. Unfortunately, I didn't focus too well on that photograph. Lastly, I headed to the La Plata Mountains where I wished to come away with some images, but the wind was a bit too strong.
August 4, 2009: Colorado Mountain Wildflower Pictures
I made my way back to the mountain landscape of the San Juan Region of Colorado for wildflower photography. My trip lasted from July 24-31. I spent time backpacking in the Maroon Bells Wilderness and Ice Lakes Basin. Further, I spent time on some 4x4 trails and hiking about shooting waterfall pictures and mountain pictures. The photos are separated into the Colorado Mountain Photos.Colorado Streams, and Waterfalls sections.
July 10th, 2009: Summer Colorado Mountain Photos
I recently visited the mountain landscape of the San Juan region of Colorado for some summer photography. This trip lasted from June 25-28.I shot various waterfall pictures and cascades in the South San Juan Wilderness and the Rio Grande Wilderness. Additionally, I took a small backpacking trip in the Uncompahgre Wilderness. I got to see some areas I had never seen before and really enjoyed exploring these new areas. The photos are located in the Colorado Waterfalls section and the Colorado Mountain Images section. Hope you enjoy!
January 25, 2009: Utah Winter Desert Photography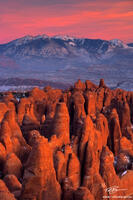 I just got back from a trip around the Moab area for Utah Winter Photography. This trip lasted from January 16-20. There weren't many clouds in the area and most days were cold and very hazy. This trip centered around Arches National Park, Moab area, Canyonlands, and the San Rafael Swell areas.
November 9, 2008: Desert Southwest Fall Photography (Utah Photographs)
Well, the title for this news section is a bit of a misnomer. I really didn't come away with a lot of photographs that showed the Southwest fall colors. However, there are a few in here. My trip took me to Arches National Park, Grand Staircase-Escalante National Monument, and Zion National Park. There really wasn't enough time to see as much as I wanted. Some of the highlights included hiking slot canyons and a hike to see the Subway in Zion National Park.
Latest Photos